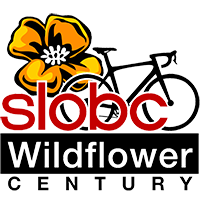 Wildflower Century
Date: April 23, 2016
Registration Fee: $75
The Wildflower Century starts and ends in Creston California at the Creston Elementary School and travels rural roads through oak woodlands and ranch lands unchanged by time.
Route Choices
All three routes leave Creston on O'Donovan Road that ascends very gradually for 5 miles. At the intersection of O'Donovan Road and Highway 58, the 50 Mile Route turns left and the 70 Mile and Century routes turn right. The 70 Mile and Century routes proceed West on Highway 58 and turn South on Huer Huero for a lovely climb. At the top of the climb, the 70 Mile route descend Parkhill while the Century route descend Las Pilitas. Both are great descents. The two routes join up again at the rest stop at the Parkhill Fire Station.
Leaving the Parkhill Fire Station, the 70 Mile and Century routes travel East along the rolling hills of Highway 58 to join with the 50 Mile riders at the Shell Creek rest stop. If we are lucky, the weather and rain has resulted in a blanket of wildflowers along Shell Creek Road as everyone descends toward the lunch stop in Shandon.
After lunch, you face the challenge of a gradual ascent up Highway 41 to the next rest stop. Shortly after this stop, you will reach the top of the climb with wide-open views as you descend, turn onto Camp 8 and then Creston Road toward the finish. At the intersection with Highway 41, the 70 and 50 Mile routes will continue into Creston while Century riders enjoy a beautiful loop out La Panza with a rest stop at Shadow Run Vineyard before continuing on Highway 58 and O'Donovan Road to their finish at Creston. At the end of the day, everyone will enjoy a well earned BBQ hosted by the Creston Volunteer Firefighters' Association.
The Wildflower Century includes:
Rest Stops well stocked with good food
Robust SAG support
Peaceful ride on rural roads through ranch country
Enthusiastic and friendly volunteers
Post-Ride BBQ and live music with BarrelHouse Brewing Co. beer for purchase
Colorful ride patch
Event Photography by PhotoCrazy
Opportunity to purchase Wildflower Clothing
Wildflower Safety
Approved helmets are required to be worn by all riders. NO HELMET, NO RIDE!
All minors must be accompanied by an adult
All riders are expected to follow Safe Cycling Best Practices
Rear-view mirrors to monitor overtaking vehicles and cyclists are encouraged. (California law requires that cyclists move right as practicable to allow vehicles to pass.)
Portable audio devices using ear pieces are discouraged. (California law mandates that ear pieces be used in only one ear.)
Friday Spaghetti Dinner
Eliminate the hassle of the Saturday morning crowds! Come to Creston Friday night and pick up your registration materials and then take part in a pre-ride carb load-up at the annual Spaghetti Dinner. The Spaghetti Dinner is put on by the community to benefit the Creston Women's Club Scholarship Fund.
Price: $10.00 (adults), $5.00 (children under 9)
Date: Friday, April 24, 2015
Time: 5:00 PM to 8:00 PM
Location: Creston Community Center
Saturday Starters
Given the proximity of our start location to services, we have assembled some Saturday morning food choices you can purchase before setting out on your ride. They will be available at the Creston Elementary School from 6:30 to 9:00 AM next to Registration and Clothing Sales.
SLOBC Supports the Community
As a 501.c.4 non-profit, the SLOBC uses your event fee to support local bicycle groups, advocacy organizations, activities and programs and our communities. Go to Donations for a list of the organizations we support.