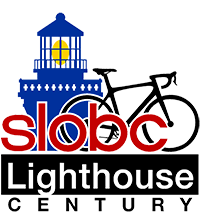 Lighthouse Century
Date: September 24, 2016
Registration Fee: $75
The Lighthouse Century starts and ends on the campus of Morro Bay High School in the quaint coastal community of Morro Bay. All routes travel North along the coast past San Simeon with the two longer routes including climbs into the coastal hills. Senic vistas of the central coast shoreline make this a beautiful ride.
Those taking the Old Creek Route travel up the winding, oak-tree-shaded and challenging Old Creek Road while those choosing the Century Route make the long climb up Highway 46. Both of these routes turn around at the Donati Family Vineyard rest stop and enjoy the long Highway 46 downhill with its breathtaking views of the coast.
All routes make a rest stop at Cambria's Shamel Park and then continue North along the San Simeon coast to the turnaround rest stop at the Cypress Tree Vista just below the Elephant Seal Observation area. Be sure to look for zebras on the Hearst Ranch property. The Shamel Park rest stop again serves all riders as they return to the start. Hopefully the return ride from Cypress Tree will be aided by a tailwind all the way to Morro Bay High School and a well-earned post-ride BBQ.
Lighthouse Century Routes
Lighthouse Century Highlights
Beautiful views of the ocean and coastal hills
Que & Map sheet
Rest Stops well stocked with good food including organic choices
Robust SAG support
Bike Mechanic at Start and Midpoint
Enthusiastic and friendly volunteers
Post-Ride BBQ for registered riders featuring cobbler & ice cream. Tickets available at BBQ for non-riders ($10) (Fundraiser for Morro Bay High School Athletic Boosters).
Ride patches and wristbands for registered riders
Your event fee makes possible our annual Donations of over $75,000 to local cycling organizations and events and the communities that make our rides possible.
Opportunity to purchase Lighthouse Clothing. This year's clothing features the Hearst Castle Zebras often seen by riders on Highway 1.
Lighthouse Century Safety
Approved helmets are required to be worn by all riders. NO HELMET, NO RIDE!
All minors must be accompanied by an adult
All riders are expected to follow Safe Cycling Best Practices
Rear-view mirrors to monitor overtaking vehicles and cyclists are encouraged. (California law requires that cyclists move right as practicable to allow vehicles to pass.)
Use the wide shoulders available on most roads
Portable audio devices using ear pieces are discouraged. (California law mandates that ear pieces be used in only one ear.)