Photographer: Bruce Easton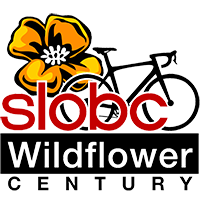 Wildflower Century
Date: April 27, 2019 (New)
Location: Creston, California
The San Luis Obispo Bicycle Club invites you to the 48th Wildflower Century as it returns to the last weekend of April. We offer five routes on quiet rural roads through vineyards and ranches in Paso Robles Wine Country. Register now to ensure your place in this classic ride.
What's New
New Date: The 2019 Wildflower returns to the last Saturday in April!
New Route: A 52 mile route that starts at 10:00 AM and follows the second loop of the century ride. The second loop roads through Pozo are some of our favorites and provide a challenging and beautiful ride that is an excellent alternative to our great Metric Century.
New Paving: Highway 58, Highway 41 and O'Donovan Road are repaved and provide additional miles of smooth riding.
RFID Satellite Tracking: The tracking system will record the flow of riders to enhance their support and offer two "Personal Best" challenges. The challenges will include a 1 mile sprint and a 1.6 mile hill climb (KOM). The Century, 75 and 64 mile routes will include both the sprint and hill climb (KOM) challenges. The 45 mile route will include the sprint but not the hill climb (KOM) challenge. The new 52 mile route will include the hill climb (KOM) but not the sprint challenge.
E-Bikes Welcome: Routes are e-bike friendly – they follow two loops that each start and end in Creston. E-Bike rules and information are provided on the FAQ Answers webpage.


Photographer: Chris Manning
Routes
All routes except the Half Century (52 mile) begin by climbing up Highway 41 followed by two fantastic downhill runs on the way to Shandon. After Shandon there are 7 miles of rough pavement out Shell Creek Road that we refer to as our cobble stone section. The remaining section of Shell Creek is smooth and includes the 1 mile sprint challenge and ends with a spectacular display of flowers if mother nature is kind to us.
Open a route's RWGPS file from the list below on a desktop or laptop computer to see its profile showing the route's distribution of climbs and descents – a profile's vertical dimension is exaggerated. If you move your cursor over the profile, it will show the mileage, elevation and slope percentage at each point along the route – slopes less than 3% are gentle, slopes above 6% are work.
All routes except the 45 end with a 1.6 mile climb up Highway 229 that is the hill climb challenge (KOM) followed by a four mile descent along a shaded road and ending with a flat three mile run by vineyards and ranches into Creston and the post-ride BBQ.
Download a Wildflower Information (pdf) sheet that provides an overview of the ride and the roads being used.

Photographer: Bruce Easton
Wildflower Century Highlights
Many recently repaved rural roads
Que & Map Sheet
Rest Stops well stocked with good food
Robust SAG support
Bike Mechanics at Start and key rest stops
Enthusiastic and friendly volunteers
Post-Ride BBQ for all registered riders including:

Live music by Burning, Bad & Cool (Burning James on lead guitar and vocal, Billy Baxmeyer on bass and vocal and Jim Conway on guitar and vocal)
Local beer and wine for purchase, 
Choice of BBQ chicken or vegetarian portobello mushroom burger,
Vegetarian beans, hearty salad and dessert,
Tickets available at BBQ for non-riders

Ride patches and wristbands for registered riders
Your registration fee supports our Donations to Bike SLO County and other local cycling organizations and programs and the communities and groups that support our rides.
Opportunity to purchase Wildflower Clothing
Follow us on Instagram and use #slobcwildflowercentury and #slobc to see event images and share your posts
Event Photography by PhotoCrazy
Wildflower Safety
Approved helmets are required to be worn by all riders. NO HELMET, NO RIDE!
All minors must be accompanied by an adult
All riders are expected to follow Safe Cycling Best Practices
Rear-view mirrors to monitor overtaking vehicles and cyclists are encouraged. (California law requires that cyclists move right as practicable to allow vehicles to pass.)
Portable audio devices using ear pieces are discouraged. (California law mandates that ear pieces be used in only one ear.)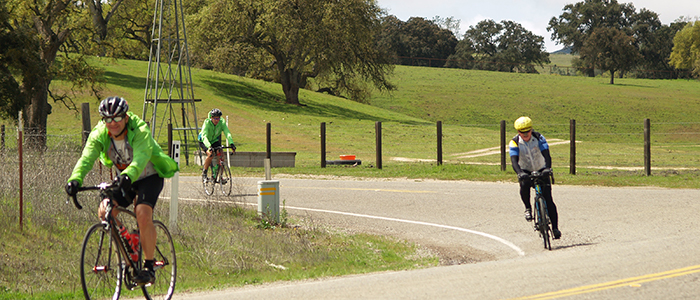 Photographer: Bruce Easton
Friday Spaghetti Feed
Eliminate the hassle of the Saturday morning crowds! Come to Creston Friday night and pick up your registration materials and then take part in a pre-ride carb load-up at the annual Spaghetti Feed put on by the community to benefit the Creston Women's Club Scholarship Fund.
Price: $12.00 (adults), $5.00 (children under 10) purchased at the door
Date: Friday, April 26, 2019
Time: 5:00 PM to 7:30 PM
Location: Creston Community Center
Wine, Beer & Desserts available for purchase
Meat and vegetarian spaghetti sauces!
Saturday Coffee & Hot Chocolate
The Creston School Science Camp is receiving a donation from the SLOBC for serving free coffee and hot chocolate at Creston Elementary School from 6:30 to 9:00 AM Saturday morning. Additional donations when you pickup your drink are welcome to increase support for the school's science program.
Partners, Suppliers & Vendors
These local organizations and businesses provide volunteers, rest stops locations, food, ride clothing, supplies and services to support the safety and enjoyment of our riders.